The schedule for the San Francisco Opera next season has been announced. For the true opera fanatic it's pretty boring.
September 6- October 2 2013: Boito's
Mefistofele,
starring Ildar Abdrazakov (Enrico in the Met's
Anna Bolena
), Ramón Vargas, and Patricia Racette.
September 18- October 4 2013: world premiere of Tobias Picker and J.D. McClatchy's
Dolores Claiborne
, starring Dolora Zajick. This is based on a Stephen King novel.
October 8- November 2 2013: For the Verdi year we have Verdi's
Falstaff
, starring Bryn T. Jones. Don't get confused. That's his actual name. Reverenza! Verdi's Requiem is in here somewhere, too.
October 22- November 15 2013: For the Wagner year there is Wagner's
Der fliegende Holländer
starring Greer Grimsley. He was our Jokanaan in
Salome
in 2009. Bryn sings this, too, but not for us. Wouldn't a Bryn double feature be fun. If we have to pick, maybe
Falstaff
is best.
November 13- December 1 2013: a new production of Rossini's
Il barbiere di Siviglia
. This will have two casts--first Lucas Meachem/Isabel Leonard/Javier Camarena and the other Audun Iversen/Daniela Mack/Alek Shrader. Isabel Leonard. Both of the tenors are very nice and would be hard to choose. So pick Leonard.
That completes the fall season.
June 1- July 2 2014: Jerome Kern's
Show Boat
, starring Heidi Stober, Patricia Racette and Nathan Gunn. This Francesca Zambello production comes to us from Chicago Lyric. Everyone seems to be doing musicals these days. As musicals go, this one is quite operatic.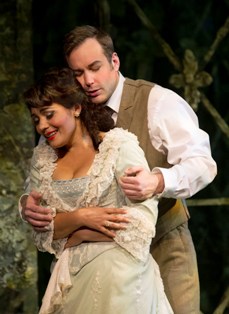 June 11- July 13 2014: Verdi's
La Traviata.
Ailyn Pérez and Sonya Yoncheva share the role of Violetta in Traviata, with Stephen Costello and Saimir Pirgu as Alfredo. Pérez and Costello, married couple, will probably sing together. I saw Pirgu in this role in Santa Fe.
June 15- July 9 2014: Puccini's
Madama Butterfly,
starring Patricia Racette. Does anyone else sing this? I still have never seen her in this role.
When I saw this as titles only, I was pretty depressed. However, there are a few singers here that I look forward to hearing. If you love Patricia Racette you will be very happy. For the Verdi-Wagner year we have early Wagner and late Verdi, the best of all possible worlds from my point of view.