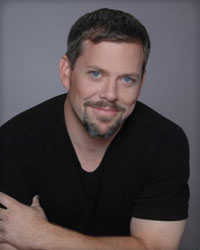 I have been known for no particular reason to greet someone by singing "Buo-o-na se-ra, Buo-o-na se-ra." I did not manage to remember which opera this was from. The answer was made clear this evening when I attended a performance of Rossini's
The Barber of Seville
at the Sacramento Opera, where the phrase comes in the second act. My excuse is that it's very catchy.
This was a very pleasant night's entertainment, full of marvelous music led by conductor Thomas Conlin, excellent singing and fabulous acting.
Leah Wool was a spunky and melodious Rosina. I notice in the program that she also sings
La Cenerentola.
Thomas Glenn was a handsome and in all ways attractive Almaviva. Stephen Eisenhard entertained us as Dr. Bartolo.
The star of the evening was Malcolm Mackenzie as Figaro. He has appeared twice before at the Sacramento Opera since I have begun living here. I made disparaging remarks about his acting last time, but this time he was lively and energetic, reminding all of us why the opera is named after his character. His big aria was outstanding. Why hasn't he moved up?
Kudos to the stage director David Bartholomew.
There's another performance on Sunday afternoon. Buy a ticket.