Conductor: Fabio Luisi
Production: David Alden
Sondra Radvanovsky as Amelia Anckarstrom
Marcelo Álvarez as the king, Gustavo III (Riccardo), who loves her
Dmitri Hvorostovsky as Count Anckarstrom (Renato), his most trusted adviser (and Amelia's husband)
Stephanie Blythe as the fortuneteller Madame Arvidsson (Ulrica)
Kathleen Kim as Oscar
Today we were treated to the Metropolitan Opera's HD version of Verdi's
Un Ballo in Maschera
. This opera is usually crudely shoehorned into a setting in Boston where it feels quite foreign. Today all pretense is cast aside and we return to the real historical setting in Stockholm, Sweden. For you see, these are real people and real events. The reality is long forgotten, but in Verdi's time when the idea of monarchy was not entirely secure it was considered a scandal to portray real royalty behaving badly. When the characters in the opera are speaking each others' names, they are neither American nor Swedish but Italian.
We are informed in the intermission that Madame Arvidsson was a real woman who accurately predicted the assassination of King Gustavo. This ended her career as a fortune teller. I have searched in vain for a photograph of Stephanie Blythe in her twentieth-century outfit complete with purse. She was simply the best Ulrica ever.
It's one thing for an exotically dressed black Ulrica to summon the devil in cave-like surroundings and quite another to see her sitting at an ordinary table dressed in middle-class clothes while she first takes a swig from her flask and then takes a skull out of her purse. This is the fascination of productions which move events closer to our own time.
The painting of Icarus partially shown above which appeared in every scene is hard to fit into a Swedish context. Gustavo was something of a foolhardy daredevil, so perhaps that is the connection. He leaps into a love affair with a married woman, puts himself in disguise in order to visit Ulrica, tracks down Amelia to the place of execution and goes to the ball in spite of the fact that he knows someone will try to assassinate him.
And what a cast. It would be difficult to imagine anyone now active who could expect to improve on any of them. Kathleen made her dance debut in this production, and perhaps she is ready for a new career. I finally found a picture of her in her Chanel pants suit and cigarette. This production needs more pictures. I enjoyed very much Sondra's passionate fluidity. This is the best I have experienced of Marcelo Alvarez. He conquered every mood of this wide-ranging opera, from comedy to romance to death.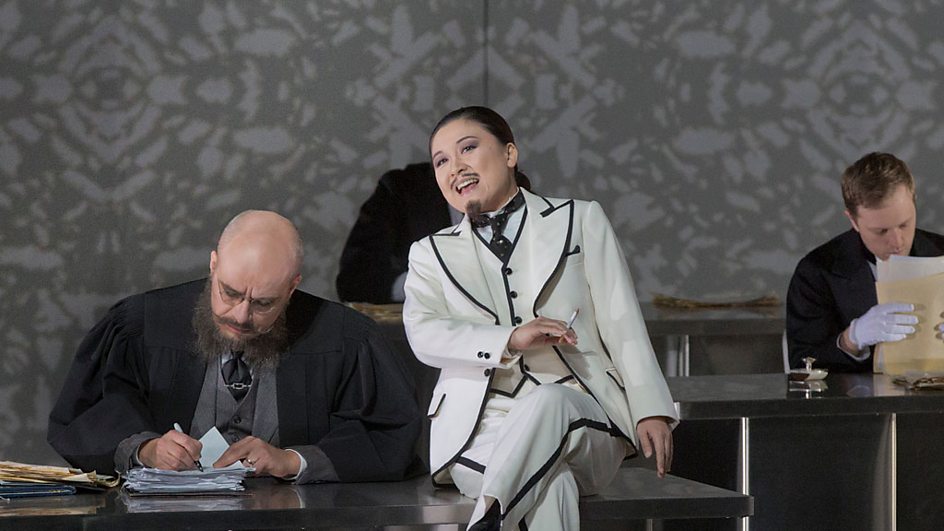 And Dmitri reigns over Verdi baritones today as few singers ever have. His voice will do anything.
He looks beautiful, too.